Celebrating Rajasthan

Rajasthan, is a colourful desert. The unconvincing Thar Desert and with it all the barren land of Rajasthan has much to offer through the plethora of celebrations. Festivals and fairs, music and dances, turns the land to a creative fertile basin.
People Religion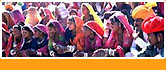 Rajasthan according to the 2001 census has a population of 56.5 million. Rajasthan has a large indigenous populace Minas (Minawati) in Alwar, Jaipur, Bharatpur, and Dholpur areas. The Meo and the Banjara are travelling tradesmen and artisans.
.........................................................
Architechture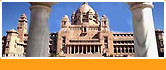 The mixture and brilliance of Rajasthan's architectural heritage can amaze a visitor. Majestic forts, intricately carved temples and havelis (meaning mansion) and even step well make Rajasthan a paradise for an architecture buff.
Best of Rajastan
Destinations Covered :

Jaipur-Ajmer-Pushkar-Jodhpur-Jaisalmer-Bikaner-Jaipur

Duration :

07 Nights / 08 Days



Destinations Covered :

Udaipur-Chittor-Kota-Jaipur



Duration :

06 Nights / 07 Days





Destinations Covered :

Jaipur-Bikaner-Jaisalmer-Jodhpur-Udaipur



Duration :

08 Nights / 09 Days



Destinations Covered :

Jaipur-Ajmer-Jaisalmer-Jodhpur-Udaipur-Jaipur

Duration :

07 Nights / 08 Days



Destinations Covered :

Delhi-Agra-Jaipur-Amber-Mandawa

Duration :

04 Nights / 05 Days



Destinations Covered :

Delhi-Agra-Jaipur-Amber- Jodhpur-Udaipur-Ajmer

Duration :

07 Nights / 08 Days



Destinations Covered :

Delhi-Agra-Jaipur-Amber- Jaipur-Jodhpur-Jaisalmer-Bikaner

Duration :

08 Nights / 09 Days